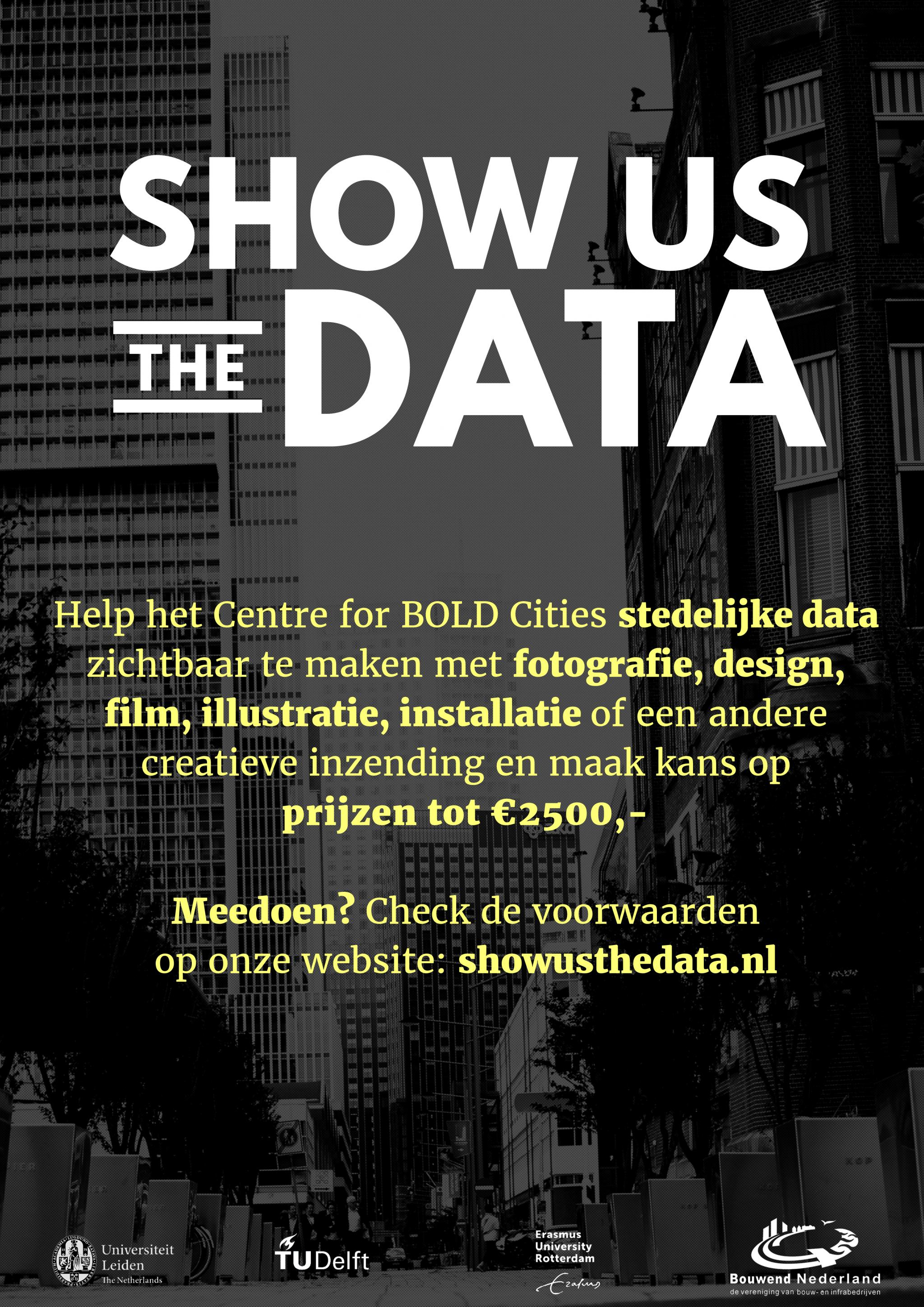 The Leiden-Delft-Erasmus Centre for BOLD (Big, Open and Linked Data) Cities and Bouwend Nederland organise a contest that revolves around the visibility of urban data. While urban data is present in a multitude of ways, it is not always very visible or recognisable. By creatively showing the ubiquity of data in cities, the Centre for BOLD Cities aims to contribute to city users' data awareness. What data are used and collected in cities? What do we know about it, what do we think about it? And how can we use these data in innovative and surprising ways?
The assignment
Life in cities is increasingly data-driven. Attentive city users will recognise that data is used and collected all around them. Various physical objects indeed show that data is collected (public transport information, WiFi networks, traffic loops, security cameras etc.) Some data hubs may be so integral to the city they are not even noticed as such (traffic lights, smartphones), while others may not be visible at all: communication streams, sound waves and network cables are either invisible to the human eye or neatly tucked away in the urban environment. Data linking, to name another example, mostly happens behind closed doors.
Show us the data! Help us to show city users the ubiquity of data in their cities. To do so, you may use photography, illustration, design, film, choreography - anything you can think of, as long as it fits the purpose of increasing data awareness in the urban environment.
Rules and restrictions
There are no entering restrictions. Regardless of form, however, any contribution should be submitted as a complete work (rather than merely a concept). For inspiration, you can check out projects by the Amsterdam Light Festival, Playable City, Flowing Data or the article From Paint to Pixels: The Rise of the Data Artist (The Atlantic). Entries will be judged on creativity and their representation and use of urban data.
Prizes
For the winners of Show Us The Data, a number of prizes are available:
First prize: €2500
Second prize: €1500
Discretionary awards: 2x €500
The deadline for entering Show Us The Data is 1 November 2017.

You can send your project to Luuk Schokker, the Centre for BOLD Cities' executive manager: luuk.schokker [at] boldcities [dot] nl. You can also send your work via WeTransfer. In that case, we ask you to send a separate e-mail to confirm your participation. If it is somehow not possible to send your work via e-mail of WeTransfer, you can contact Luuk Schokker as well. He is also available via e-mail for any other questions you may have.