Location
PLNT, Langegracht 70, 2312 NV Leiden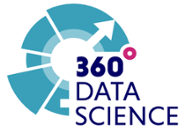 On the 6th of March 2020, the 360 Degrees of Data Science symposium will be held for the first time. This free one-day symposium will showcase applications of data science in novel domains.
The two keynotes of the day will be by:
Janina Rannikko of the University of Helsinki on data science for understanding evolution
Stefania Giodini of the Red Cross on data science for disaster response
In addition, there will be interactive workshops with case-studies from industry and a panel on the ethics of applying data science in the real world. Female data scientists will take a central stage on this day to demonstrate how data science can be an interesting career choice not only for men but also for many women. 

Whether you are a novice or an experienced data scientist, this symposium will provide an interesting peek into how data science can benefit many fields, also those you might not have expected. 
This event is an initiative of the Data Science Research Programme, associated with the Leiden Centre of Data Science.