As part of Module 2 'Citizens and everyday experiences with the smart city' of our BOLD Cities Minor Smart and SHARED Cities, our students went on a walking tour with artist Angeliki Diakrousi to 'hunt' Mosquito alarms.  Achraf Taouil, one of our students, shares his experiences of the tour. 
What are Mosquitos and where to find them?
Mosquito alarms are devices that emit a high-pitched, buzzing sound at frequencies, said to be only perceptible by people under 25 years old. The noise that these devices emit is intentionally disturbing and has as its objective to prevent youngsters from hanging out in certain spaces in the city.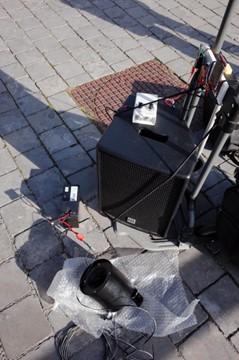 To demonstrate the sound, Angeliki Diakrousi brought along a Mosquito device as well as equipment that receives, transforms, and amplifies the Mosquito's noises so they are also perceptible by people who normally cannot hear them.
We stopped at the private residential building "Ter Heem," which has two Mosquito devices hanging from its external wall. The device was installed at the request of the inhabitants to prevent young people from hanging around the building. Some students were so disturbed by the Mosquito's noise that they had to walk away and stand at a safe distance. While the municipality also installs Mosquitos in public places that are only activated between 10PM and 6AM, Ter Heem is officially private property, and its Mosquito is active 24/7. At a distance from the residential building,  Angeliki took out an older version of the Mosquito which she borrowed from the artistic group RYBN for her research. When she connected the device, the group of students standing around her immediately scattered in reaction to the unpleasant hearing sensation.
The walking tour raised several questions amongst us: To what extent is the use of this device proportional? Are Mosquito alarms harmful for your ears? How does the use of this device relate to the right of young people to gather in and use public space? The Mosquito device makes such disturbing sounds that some people – not necessarily loitering youth – are actively avoiding the spaces around which they are placed. In this way, urban spaces become inaccessible for certain groups of people, raising important questions about which groups are entitled to use the city's spaces and which groups are actively excluded from them.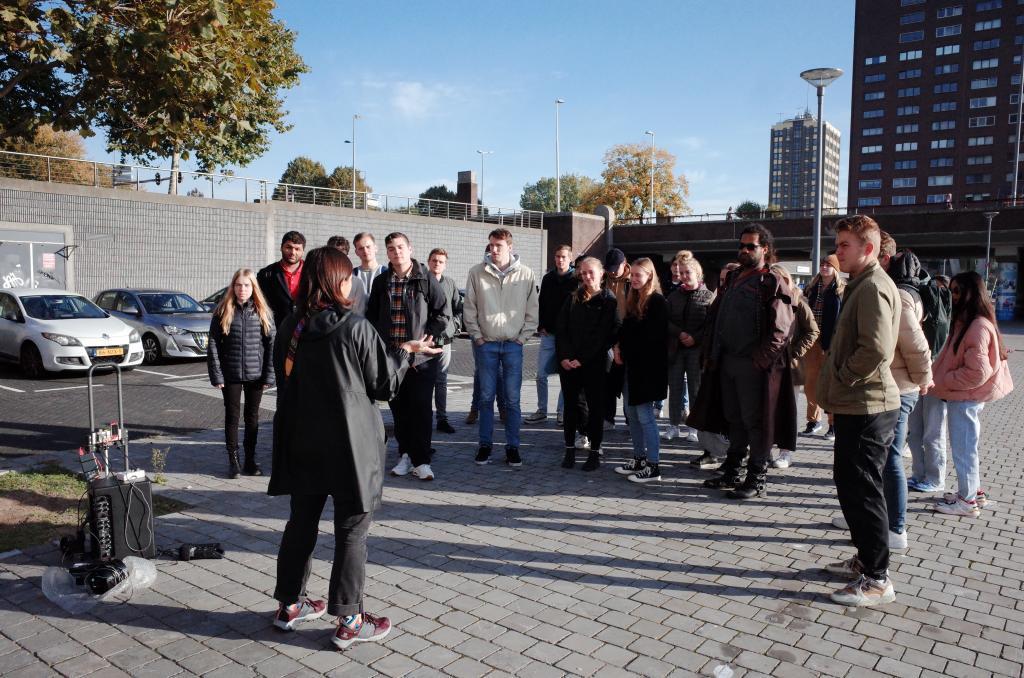 Lack of public debate                                   
Mosquito devices are almost invisible if you do not know how they look and where they are placed. They are relatively inconspicuous. Although the noise clearly can be heard, young people who do not know of the device are likely to be in the dark about what causes their unpleasant sensations. This caused a discussion amongst us about how relatively little attention is paid to this topic, while there is simultaneously an increase in the use of the Mosquito device both by public and private actors.                                                                                          
Angeliki Diakrousi's larger project, of which the Mosquito hunting tours are part, is about researching the perception of the Mosquito's sound, and the social and political implications surrounding its use. As such, she is actively stimulating a public debate about the Mosquito. Furthermore, for Angeliki the tours are also a way for us to occupy and (re-)claim spaces which actively exclude young people. For us students, it was an explorative way to research the smart city and talk to each other outside the setting of a classroom.
The tour is a way to occupy and (re-)claim spaces which actively exclude young people."
Whose right to the smart city?
The use of this device has important consequences for citizens and citizenship in the smart city. While there is a lively debate around the inclusion of citizens in smart city visioning and planning, smart city technologies still actively exclude particular groups of people from their urban living environment. This is not only the prerogative of city administrations and law enforcement agencies; the Mosquito device demonstrates that some citizens themselves actively engage in these exclusionary practices. Angeliki explained that some of the Mosquito devices are remote-controlled by citizens living near popular places for hanging out. Mosquito devices make us question whose safety and whose security we are foregrounding when talking about safety and security. As such, they do not stand alone, but build on existing strategies to create boundaries in the city.
Mosquito alarms build on existing strategies of creating boundaries in the city."
Despite the controversy surrounding the Mosquito device, the municipality of Rotterdam mostly sees it as an effective way to deter young people from causing nuisance. Can we rightfully speak of a shared city when some groups of people are actively excluded from it?
Angeliki Diakrousi is a researcher and artist. She is currently involved in research projects that critically engage with public space, technology, computing, infrastructures and their languages. Her work examines the politics of public spheres and the potentialities of digital tools, spaces and networks. She has joined Varia in Rotterdam since 2019 and she is involved, among others, in the collective research of WordMord, Feminist Hack Meetings and Feminist Search Tools. Angeliki is an Architecture graduate of the University of Patras in Greece and holds an MA from the Experimental Publishing Master at Piet Zwart Institute in Rotterdam. She has taught in Fine Arts and Social Practices at Willem de Kooning Academy in Rotterdam about collective platforms, digital publishing and broadcasting.
Achraf Taouil studies Public Administration at the Erasmus University Rotterdam, where he is also active in EUR's outreach program "Connecting Our Future."  Previously, he has worked as a policy officer in the city council of Rotterdam for a party and councilors. During that time, he first became acquainted with Mosquito devices and the debate surrounding them. Achraf is part of the third run of the minor 'Smart and SHARED Cities.'