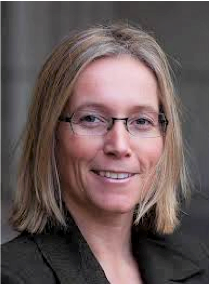 Monique Arkesteijn, researcher at the Leiden-Delft-Erasmus Centre for BOLD Cities, is assistant professor in Real Estate Management at Delft University of Technology. Her main research topic is Corporate Real Estate alignment with a specialisation in developing design and decision systems based on stakeholders' preferences.
Can you tell us about your current research at the Centre for BOLD Cities?
I work in a team with dr. Jan Rellermeyer (Delft University of Technology), dr. Peter Scholten (Erasmus University Rotterdam), PhD student Sobhan Omranian Khorasani (Delft University of Technology) and researcher Christian Lesmes Mendoza and from the board dr.ir Alexander Koutamanis and dr. Jiska Engelbert. Our research project 'SHARED Data for Improved Emergency Relief in High-Rise Buildings' aims to improve safety and crisis management in high-rise buildings in the case of disasters, by making use of existing big, open and linked data. The problem is that data is often not accurate. Where many researchers focus on making data more accurate, our aim is to stack different data sources and thereby qualifying the accuracy of the data. This approach of assessing existing data is called probabilistic analytics. Our focus lies on developing a tool or protocol in order to provide accurate information, limit damage and keep people safe in emergency situations.
In this research we came across three problems that we would like to solve in contribution to emergency relief in high-rise buildings; it is not clear whether different stakeholder groups are willing to share their data; there is no precise information available about how many people (and where exactly) are present in the building and emergency services do not obtain an accurate three-dimensional map of buildings.
Nowadays when there is a crisis, for example a fire, emergency services have access to a two-dimensional drawing that was documented at the moment the building was constructed. Most often these maps are not up to date. For this problem we examine possibilities for creating accurate three-dimensional maps that can and should be updated when necessary. We research the possibilities of up-to-date complete information in BIM models and the development of suitable digital twins for fire safety. Most existing solutions for fire safety are limited to permit for construction or operation, while we are developing real time fire safety solutions during an emergency. Current safety checkers are often based on fire safety norms and are not detailed enough for specific real-time emergency situations from a risk perspective.  
For a clear view on the number of people and their location in a high-rise building, we were planning to link existing data of, for example, WIFI, coffee machines and office entrance gates. Unfortunately, we identified several organisational obstacles to data sharing and the situation in buildings was not as usual due to the covid pandemic with people working from home which made it unrealistic to collect real time data. This made us decide to wait for a more accurate situation and focus on research proposals instead.
How do you experience working on interdisciplinary research at the Centre for BOLD Cities?
For research it is essential to work in a multi-disciplined team. Our team consists of researchers specialised in technical, digital and social sciences. The technical focus in our project lies on the information about a high-rise building. The digital research provides information on people in the building and where they are located. The social science gives us insight in the behaviour of those people. For example: Would they want to share data in contribution to emergency relief? Besides the scientific advantage of a multi-disciplinary team, it is very interesting for us scientists to learn more about each other's specialisations and, therefore, get to know different views on the research topic.