The BOLD Cities-affiliated researchers behind Delft University of Technology's SocialGlass platform have taken further steps in the development of their Social Distancing Dashboard. 'As countries take their first tentative steps towards loosening COVID-19 lockdown, society faces the difficult task of putting social distancing rules into practice,' the SocialGlass team writes. 'With growing numbers returning to city streets, it is clear that public space (or lack of it) can hamper our ability to keep a safe distance.'
The Social Distancing Dashboard offers an overview of different factors affecting our ability to respect social distancing rules. By developing high-resolution maps, the Dashboard highlights detailed information relevant to social distancing in an urban setting – such as the width of the footpath and the location of bus stops and other transport hubs. The cities for which the Dashboards is available include Rotterdam and The Hague. Delft, Amsterdam, Utrecht, Eindhoven, Groningen and Den Bosch are also featured.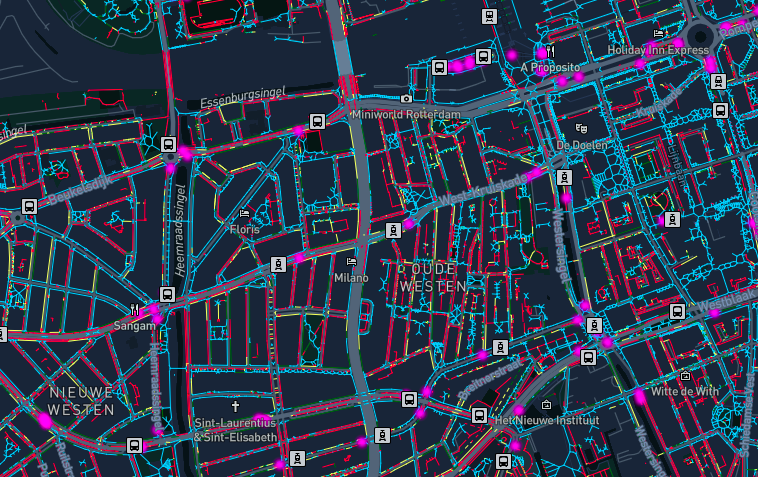 The dynamic and colour-coded maps in the Social Distancing Dashboard are available for use by policymakers, who develop urban policy on public health, as well as city planners who are tasked with creating COVID-19-related interventions in the urban public space. In addition, the Social Distancing Dashboard may also prove relevant to city residents – especially those in risk groups – who want to navigate the city streets as safely as possible.
In June, Achilleas Psyllidis introduced the Social Distancing Dashboard during a Pakhuis de Zwijger session on Science for the City.